MAIN MENU
CATALOG INDEX
BY ALPHABETICAL
ORDER
For more info:
JSi@jsits.com
- [2028R Multi-Function
Centrifuge ]
- [ 2002 Ventilated
Microcentrifuge ]
- [ 2019R Refrigerated
Microcentrifuge ]
- [ 8 Place Centrifuge ]
- [ Economy Centrifuge
Clinaspin ]
- [ Micro-Hematocrit
Centrifuge ]
- [ Safety Centrifuge
Clinaseal ]

Safety Centrifuge - Clinaseal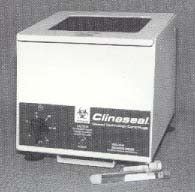 The ideal physician's office centrifuge! Our quiet Clinaseal features exclusive Aero-Lok technology that helps protect personnel from aerosols while maintaining sample temperature stability. The motor chamber is isolated from the outside environment. A brushless, permanently lubricated motor means no maintenance worries. The sturdy aluminum cabinet is covered with a durable, backed-on powder coating in an attractive tan color that compliments any environment. Private labeling is available.
3150 RPM, 1132 x g R.C.F.
Cool Running Brushless Motor
Accomodates 2ml-15ml specimen tubes
2 Year Warranty
9.5 in. Wide x 10.0 in. deep x 9.0 in. high
Lid Safety Switch
Sealed design offers superior protection from biohazards.
| | |
| --- | --- |
| NO. CAT. | DESCRIPTION |
| CS6C | 6 Tube Capacity, 30 Minutes Timer |
| CS8C | 8 Tube Capacity, 30 Min. Timer |
| CS6X | 6 Tube Capacity, On/Off Switch |