모델명 : JS-600 Super Tough Gray
케이스 외형 :
450(길이) X 368(높이) X 235(폭) MM
17-3/4" x 14-1/2" x 9-1/4"
JTK-17STM Super Tough

JS-650 Super Tough Gray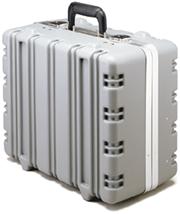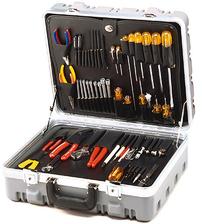 가격:1,550,000원 (부가세 별도) ,납기:5주
Vacuum formed .235 high density gray polyethylene.
Molded-in stacking feature.
Tongue and groove aluminum closure, chrome-plated keylock latches,
padded steel core handle, and lid document pouch.
니퍼
(소, 대)

롱노즈 플라이어
(소, 대)

너트 드라이버

헥사 드라이버

인치, 메트릭 세트

포켓 드라이버,
(+, -)

긴 일자 드라이버

(대, 중)

십자, 일자
드라이버( 중)

십자, 일자
드라이버(대)

일자 드라이버
( 특대 )

주먹 드라이버
( +, -)

쇠자(소)

센터 펀치

핀셋

송곳

나이프

라쳇 드라이버

휠러 게이지

스프링 걸개

펜 라이트

반사경

캘리브레이션 툴

스크류 스타터

유틸리티플라이어
(대 )

몽키 스패너
( 중, 소)

크림퍼

와이어 스트리퍼

리테이닝 링
플라이어

소형 해머

오픈엔드 렌치세트 (인치, 메트릭)

헥사 키 세트

헥사알렌 렌치세트

솔더 아이언,
스탠드

1"/4 드라이버
소켓 세트

Following tools are included in the JS-600 Super Tough Gray KitJ.TK-17 Inch/Metric Tool
Alignment tools (2)
Feeler gauge
Hammer, ball peen, 4 oz.
Handle, driver blades (2): 3-1/8, 4-1/8"
Hex key set 10 pcs, .028-5/32"
Hex key set (7): Fold up 1.5-6mm
Hexdriver blades (9): .050, 1/16, 5/64, 3/32, 7/64, 1/8, 9/64, 5/32, 3/16"
Icepick scribe
Knife, electrician's
Mirror, inspection
Nutdriver blades (9): 3/16, 7/32, 1/4, 9/32, 5/16, 11/32, 3/8, 7/16, 1/2"
Penlight
Pliers (6): diagonal cutter, 4-1/4"; diagonal cutter, 5-1/4"; groove joint, 10"; long nose, 4-3/4"; long nose with cutter, 6-3/4"; retaining ring, external/internal
Punch, center, 3/32"
Punch, Pin (2): 1/16, 1/8"
Screwdriver, offset ratchet, Phillips/slotted
Screwdriver, Phillips No.0 x 21/2", pocket clip
Screwdriver, Phillips (3): No.1 x 3"; No.2 x 1-1/4"; No.2 x 4"
Rule, stainless, 6"
Screwdriver, slotted 3/32 x 2", pocket clip
Screwdriver, slotted (6): 1/8 x 4"; 1/8 x 8"; 3/16 x 3"; 1/4 x 11/4"; 1/4 x 4"; 5/16 x 6"
Screwdriver set, jeweler's, 7 pc.
Screwstarter, Phillips/slotted
Socket set, 1/4" drive, (14 pc.)
Solder aid, fork and hook
Soldering iron, 115V
Spring tool, pull
Spring tool, push
Tweezer, reverse action
Wire crimper/stripper
Wire stripper/cutter
Wrench, adjustable (2): 4"; 8"
Wrench set, ignition, 8 pc.
Tool case with pallets

including can be variable without notice







경기도 안양시 동안구 호계 1동 555-9, 안양 유통상가 17동 127호
Tel 031-479-4211/2
Fax 031-479-4213
Email JSi@JSiTS.com